Plastic packaging (the 'P' in PMD) is collected from your home via the blue PMD bag. It is a valuable raw material for our society. Its unique properties allow us to keep products better and for longer and avoid (food) waste. In addition, thanks to new technologies, we can sustainably recycle more and more plastic packaging.
Why recycle plastic packaging? 
Recycling plastic packaging enables us to considerably reduce our environmental footprint. It uses less energy than producing new plastic. And we avoid the constant need for new raw materials, which we often have to transport across long distances. In addition, recycling offers huge added value in economic terms. Because instead of simply incinerating plastics, they become valuable new raw materials that create extra economic activity and more jobs.
Good sorting = better recycling
To be able to recycle plastics well, it is important that we sort the packaging properly and that there are no disruptive elements in the PMD bag. Leftover products, drinks and food make high-quality recycling more difficult. So we rely on you to apply the sorting rules properly!
This is how it works
Collecting from your home

Plastic packaging such as bottles, containers, trays, pots, dishes, bags and film can be put in the blue PMD bag, which is then collected from your home. That is convenient for you, because you don't have to go anywhere. But at the same time, it guarantees maximum recycling.
 
Sorting with advanced technology

The packaging that you put in your PMD bag is separated into fourteen different material flows. This is done in five brand-new sorting centres that have been especially built for the New Blue Bag. They are equipped with the very latest technologies to separate the different types of plastic from one another.

Drum sieves sort the packaging into smaller and larger sizes and windshifters separate the soft films and bags from the hard packaging. The hard plastic packaging then passes through a cascade of infrared appliances and other techniques that recognise the different types of plastic – PET, polystyrene, polypropylene – on the basis of the light that is reflected.

The sorting centres also use robots that can recognise packaging using artificial intelligence on the basis of photographs that are entered in the system. The last wrongly sorted packaging is removed from the flows by means of the visual follow-up check.
 
Washing and squashing

Upon leaving the sorting centre, the sorted plastic packaging is pressed into large bales to make it easier to transport to the recycling plant. There the packaging goes through various phases. In most cases, it is washed, crushed and transformed into pure pellets or granulates that are ready to use.
 
Processing

Using various techniques, the pellets and granulates are melted and transformed to become part of new products, packaging or objects.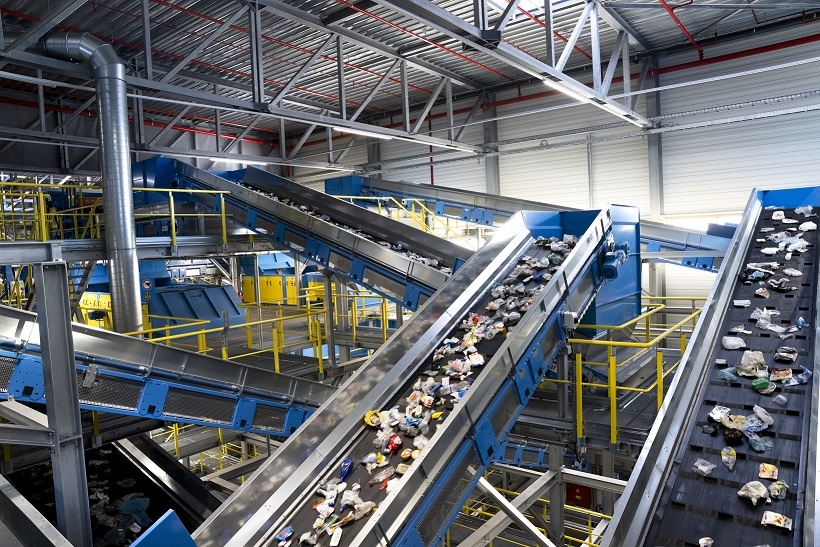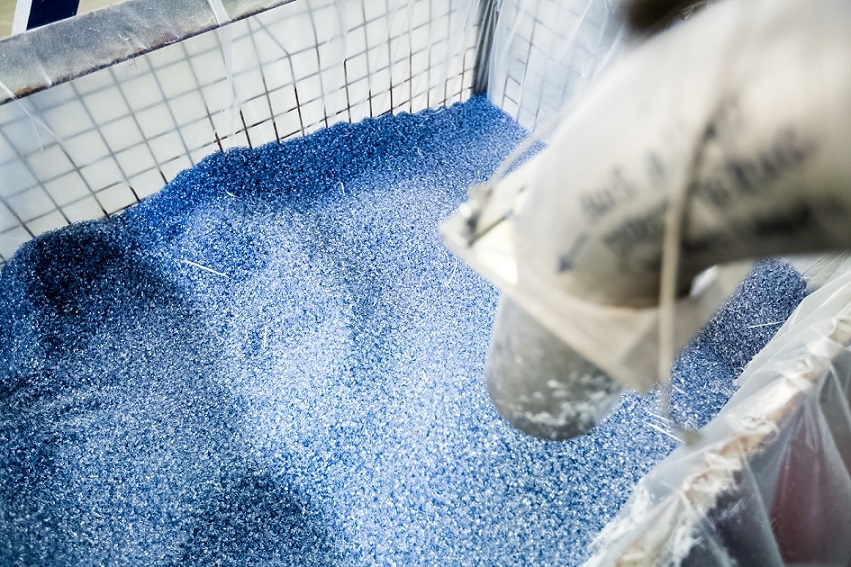 Applications

Plastics recycling is developing rapidly. New possibilities and applications for the use of recycled plastics in new products come up every day. Below is an overview of the main recycling applications for the packaging that you put in your PMD bag.
Hard plastics

Almost half the transparent PET bottles for water and soft drinks are already recycled to make new bottles and the number is rising all the time. Some of the bottles are recycled to make plastic dishes for food products. Only a small proportion – mainly the coloured PET bottles – is used in other applications, including fibres for insulation, textiles and strapping.
The opaque HDPE packaging for milk, laundry detergent or shower gel is mainly recycled to make new materials for drainpipes, cable ducts and conduits. It is also used to make non-food packaging, storage bins, drums and roller containers.
PET trays and pots are used among other things to package fruit, tarts, meat and fish and often consist of recycled material. They are largely recycled to make new trays and dishes. Thanks to new sorting and recycling techniques, the proportion used for such purposes is steadily increasing.
PP (polypropylene) packaging, including fabric softener and ready meals containers and butter tubs, becomes new raw materials for car parts, storage bins, pallets, flower pots, buckets and more.
PS (polystyrene) is used among other things for mushroom containers and yoghurt pots. This fraction also includes expanded polystyrene meat and fish trays. They are recycled among other things to make coat-hangers, photograph frames and other useful plastic objects.
For the recycling of the mixed hard plastics which cannot be sorted separately, Fost Plus works among others with the specialised company Ecoo, which recycles the materials for industrial applications, garden edging, compost and flower boxes, benches and traffic islands.
 
Films and bags

PE film (polyethylene) is used among other things for the outer packaging of water or soft drinks or bags for compost and bark. The PMD bags themselves also belong in this fraction. The film is recycled to make new film for various uses, including rubbish bags and agricultural film. 
Products such as pasta, rice, sweets and biscuits are sometimes packaged in films made of other materials, including PP (polypropylene). For these films, Fost Plus cooperates with the specialised company Ecoo, which recycles the materials for various industrial applications, garden edging, compost and flower boxes, benches and traffic islands.
Maybe you also want to read this?