Milestone of 650,000 Clicks exceeded
The Click, Fost Plus' rewards-based project to prevent litter, now has 75,000 users who, all together, have clicked 650,000 times. That means more than half a million items of rubbish or collected litter have been logged into the Click app before they ended up in the rubbish bin. This shows that the project has really taken off in the last six months, proving that positive reinforcement plays an important role in the fight against litter.
By January 2022, the Click had 15,000 users, accounting for 25,000 clicks. Today, the Click counts 75,000 users, accounting for over 650,000 clicks. This is a fivefold increase in the number of users and more than 25 times the number of clicks within 15 months. Moreover, since last summer, it's possible to click and earn Circular UCoins not just in the partner cities and municipalities (see below), but everywhere in Belgium. Through partnerships with national companies and organisations such as KBC or the nature conservation organisation Natuurpunt, the Click now reaches more and more people. Consequently, the ratio of users to clicks continues to rise, also partly thanks to the attractive vouchers users can get in exchange for their saved Circular UCoins.
Gamification to reward good behaviour
Litter is strongly linked to the consumption of food and drinks while on the road. The game aspect of the Click, complete with challenges and prize-winning activities, also helps activate specific target groups because it makes sustainable behaviour fun. Reward systems are one of five pillars of the overall litter-prevention approach of Fost Plus and its partners. The objective is to bring every last bit of packaging, arising from consumption outdoors, into the recycling chain and prevent this from ending up as litter. This is how we can limit the impact of packaging on the environment. Equally important for achieving this objective are preventive measures and new business models with reusable packaging, digital systems used alongside the blue PMD bag to selectively collect more beverage containers, and a coordinated litter-prevention approach in the public space.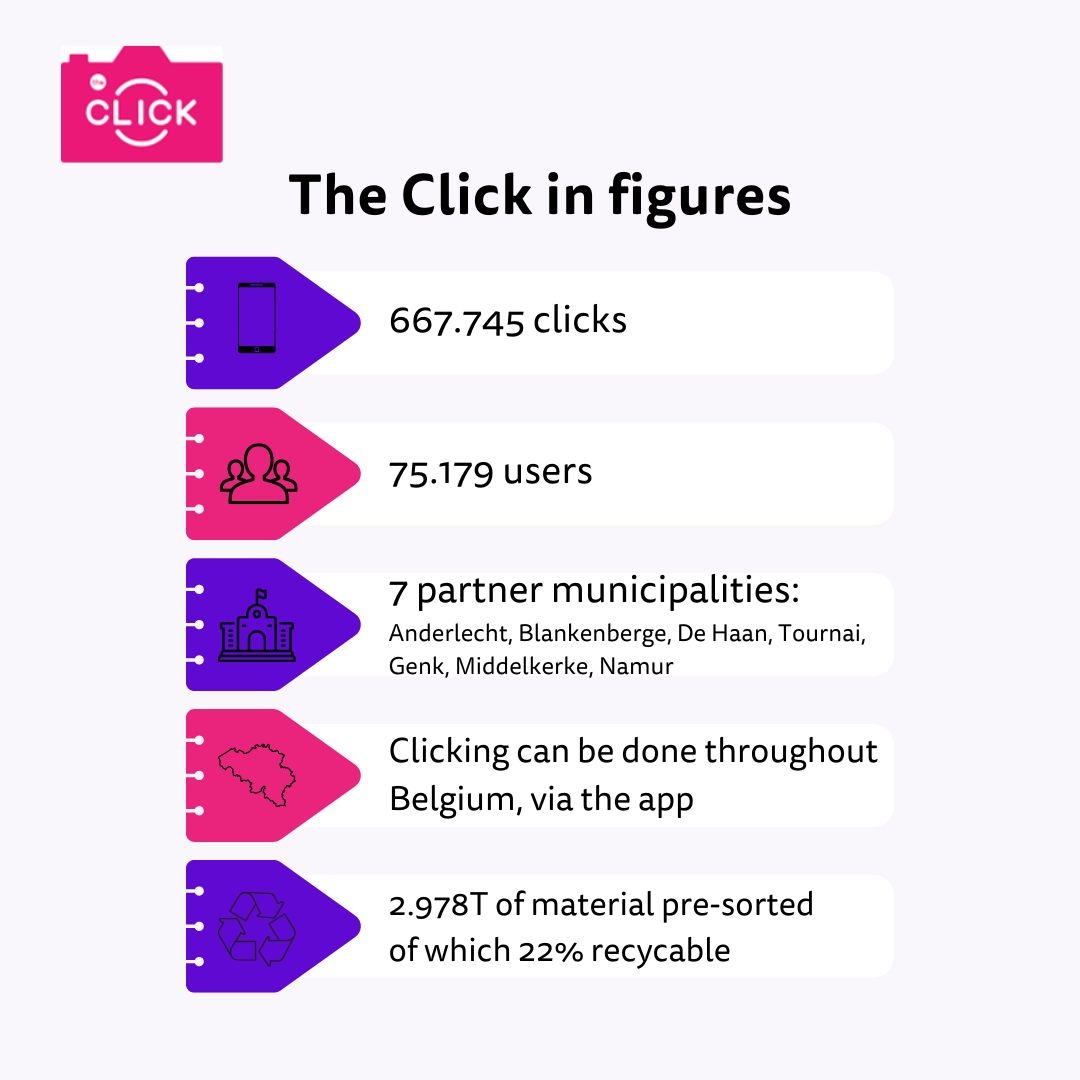 The top three of the most popular vouchers in the Click app:
1.    Vouchers for local partners such as Shopping Namur or the "Doe-es-Genk" gift card
2.    Discount coupon for Bol.com
3.    One square metre of forest via Natuurpunt